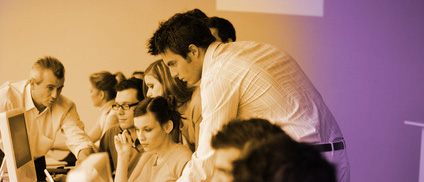 To support and develop the creative industry of moving images, Imaginove commits itself to working with you to identify promising talent for tomorrow and to develop the tools necessary for managing competencies !
Are you looking for support in developing your organization ? We can accompany you in establishing an HR policy tailored to the needs of your company by offering personalized consultation on recruitement projects, trainings or the establishment of professional evaluation interviews.
Do you need to train your personnel ?
Imaginove can accompany you in determining the most pertinent training programs and offers financial support for such training through the Imaginove Competences program thanks to our close partnership with the AFDAS organization and the support of DIRECCTE.

Are you looking to recruit ? Do you wish to bring on interns ?
You can benefit from our consulting services to define your recruitment needs and have access to the website
www.talents;imaginove.com
to acces the CVs of talented professionals and to post your job and internship offers !
You can access privileged contacts within the schools in your area of expertise through the "Ecoles de l'Images en Rhône-Alpes" network to identify talent that will contribute to the success of your projects.

Your contact Magali ROFIDAL
mrofidal@imaginove.fr
04 27 46 19 92